The pandemic that is still active has disrupted plans and trends in almost every industry. Thus, the furniture industry is not left out. In 2023, companies in this sector had to change their plans. The creations of numerous designers have become more oriented to all of us who work from home. For the same reason, the design of sofa beds this year was required a step further in comfort and functionality.
Statistics show that we spend a third of our lives resting and sleeping. This is not a small reason to expect absolute comfort from your sofa bed. If you are unable to have a spacious bed due to lack of space, a pull-out bed will be your best friend in a pandemic. Whether it is a classic, a family corner, or a comfortable sofa bed, there is no compromise here.
The sofa bed can be divided into two categories: click-clack sofas that open so that the seating area and backrest become a relaxation area; or a bed with a hidden mattress like an electric sofa. What will be your choice depends on the criteria you have set. Does it comfort, width, a certain room in the house, it's up to you.
We have compiled a list of the three best models for 2023 for you, so if you are planning to buy a new sofa bed, maybe this list will help you to make the right decision.
1. L-shaped corner sofa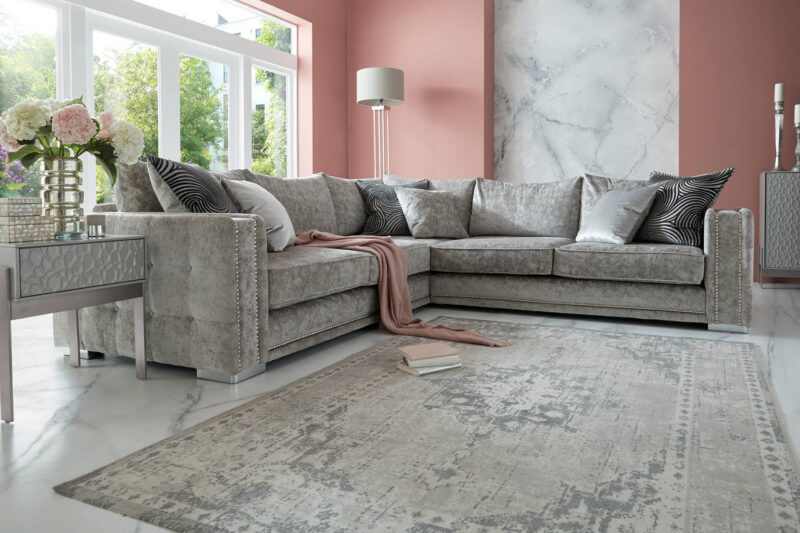 In number one place is without a doubt a corner sofa that turns from a letter L into a rectangle in just a few seconds. There are several similar sofas on the market, but we prefer the Sansa 3-seaters from John Lewis and Partners.
This sofa has a delicate shape and is produced in several colors, light gray, green and beige. You can also choose the material, depending on whether you prefer a stronger fabric, wool or rubber. The shape and colors can fit into any interior, enrich the color cover or additional pillows. And in just a few seconds, you have a spacious bed for as many as 3 people.
If you do not live alone, and you do not have enough space for a classic bed, this is the ideal family sofa bed for you. Its mechanism is neither a click-clack, nor a system of a folded and bent mattress. Simply, you have a ribbon under the seating area. With a minimum of power, you can pull it in an hour, thanks to a well-designed mechanism, you have a rectangular double bed. This rage sofa has 3 large and well-packed pillows that provide comfort when sitting.
If there are two of you, these pillows do not have to be moved while you sleep, and if there are three of you, moving the pillows gives you an extra comfortable surface. Another great advantage of this pull-out bed is that it has additional space for storing bedding, pillows and quilts. The shorter part of this sofa bed is very easy to lift and offers free space. There is no need to put linens into closets and take up extra space. The designers of this pull-out bed thought of absolutely everything!
You will love this one because it is very easy to handle, practical and simply fantastic. See a large selection of corner sofas for everyone's home at https://sofa-club.co.uk/.
2. Made Haru sofa bed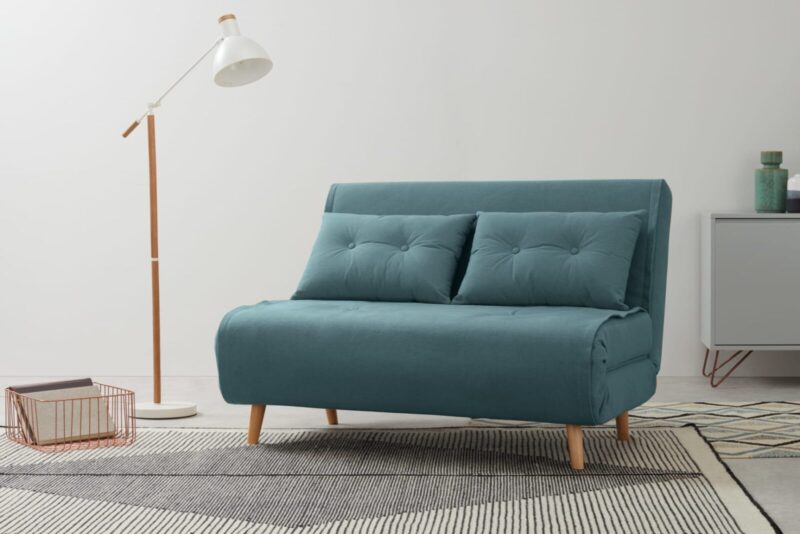 If your apartment is really small, but you also want a modern, luxurious design and a good price, this is the right choice for you. We can freely call this pull-out bed "a saver" because it really saves both space and money. You can choose one of the available 5 velvet colors of this sofa, depending on your taste. If you are single, you can choose a Made Haru sofa bed for one person and thus free up maximum space. If you still don't plan to be alone for a long time, the Made Haru sofa bed for two is a great choice. Very easily, with the click-clack system, you get a comfortable bed. It may not have a backrest, but it can raise the upper part of the bed at an angle, so that you can comfortably follow your favorite quiz or game.
In addition to being small and comfortable, the great advantage of this bed is that it is very light, so you can move it without anyone's help. For all of you, the price plays a big role in making a decision, so this sofa bed will thrill you with its cost.
You will love this pull-out bed mostly because of its retro look, comfort and price.
3. Made Motti sofa bed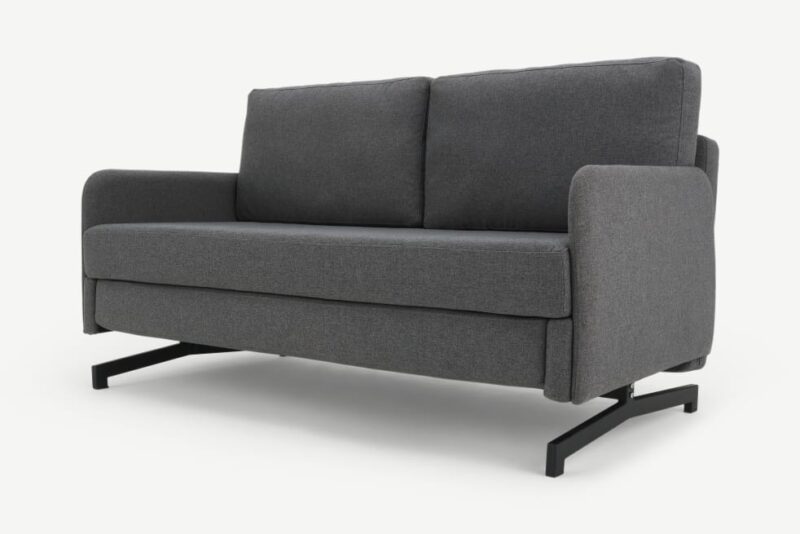 This is a two-seater sofa that very easily turns into a comfortable double bed on which is great for your sleep. Unlike many models with a click-clack mechanism, you will be amazed at how comfortable this little relaxing thing can be. Some of these have the advantage of design, some the price, here all the emphasis is placed on the sleeping platform. Its frame is made of steel and wood and the mattress is made of memory foam which makes it irresistible.
Its simple and even minimalist look easily fits into any space. This pull-out bed is available in three colors: green, light gray and dark gray. You can choose sofa trestles in the color of wood or metallic, depending on your interior. The choice is yours.
When this two-seater turns into a comfortable double bed, it offers extra security and the feeling of being in bed because it had sofa arms at either side of the sleeping space. This may not be the cheapest or the most attractive sofa bed in terms of design, but you will adore it because of its absolute comfort and it gives you the feeling of sleeping like on the clouds.
Before you go shopping for a new sofa bed, think about what you really want and expect from your new sofa bed. Pay attention to the size of the room, keeping in mind the length of the bed when it opens. Even then, it is necessary to have free space to walk around the room. Decide which place in your home is best for this furniture, keeping in mind front doors and windows. You can then write down on paper what you really want.
Do you want to emphasize the look and fit of your existing furniture? You may be one of those for whom quality and longevity come first. And if you are a true hedonist, then only the quality of the mattress and its comfort will be crucial for your decision.
And last but not least, don't expect your pull-out bed to be as comfortable as a regular bed, but definitely don't give up on your aspirations because you have a really large selection on the market.