Maintaining a high level of cleanliness at the office is something really important and can not be ignored. It is a mandatory activity, which many businesses have to follow. Cleanliness at the office has an important role in determining a comfortable and healthy work atmosphere for the employee.
The space in the office usually does not have a lot of furniture like what it usually is at home, but if the workspaces and desks look dirty, messy, and full of garbage then this can reflect as a bad performance for the employee as well as the company. Keeping the work environment clean is the most important thing that can increase employee productivity, help create a positive atmosphere, and can make visitors or clients comfortable.
Cleaning the office regularly will make your office feel fresh and professional. If your office does not employ office lady services who are usually responsible to help clean the office, you can still clean it up by yourself.
It won't be as hard as you might think, and you only need a small amount of time to do it. Read on to find what you can do by yourself to maintain your workspace clean and comfy.
1. Organizing Your Files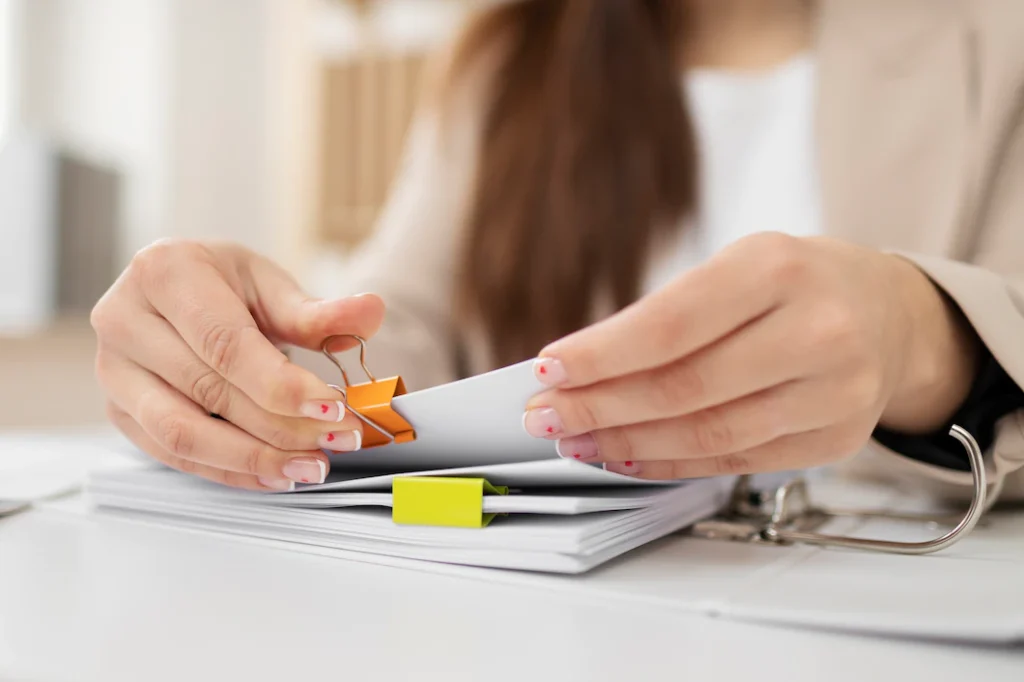 One of the most annoying things that often happens in the office is when piles of papers on your desk or your shelf, easily fall and scatter on the floor. This is very bad, because not only will it make it look messy, but you may also jeopardize all the files that you have, and risk losing them when you need them the most.
To avoid this, what you can do is to systematically enter all documents in labeled folders and store them in your cabinet or if your office has them –in the archive room. Utilize separate filing cabinets and files according to different labels, such as customer profiles, product specifications, vendor information, work orders, invoices, and others. Be sure to properly label all items and develop a consistent (alphabetical) filing method. This will not only increase efficiency in finding documents but will also give a neat and clean impression in your office.
The key to organizing your stuff is getting each item to its proper place. They not only need to be stored but also need to be labeled so that they can be easily found and obtained by you or your co-workers when needed. Keep in mind that new items will be added from time to time, so you need to make sure that there is enough space for new files when you start organizing and assigning storage areas for them. If along the way you find lots of stuff you don't need anymore, immediately throw it all. Don't keep unnecessary items that you know you won't need anymore.
2. Clean Your Electronics Regularly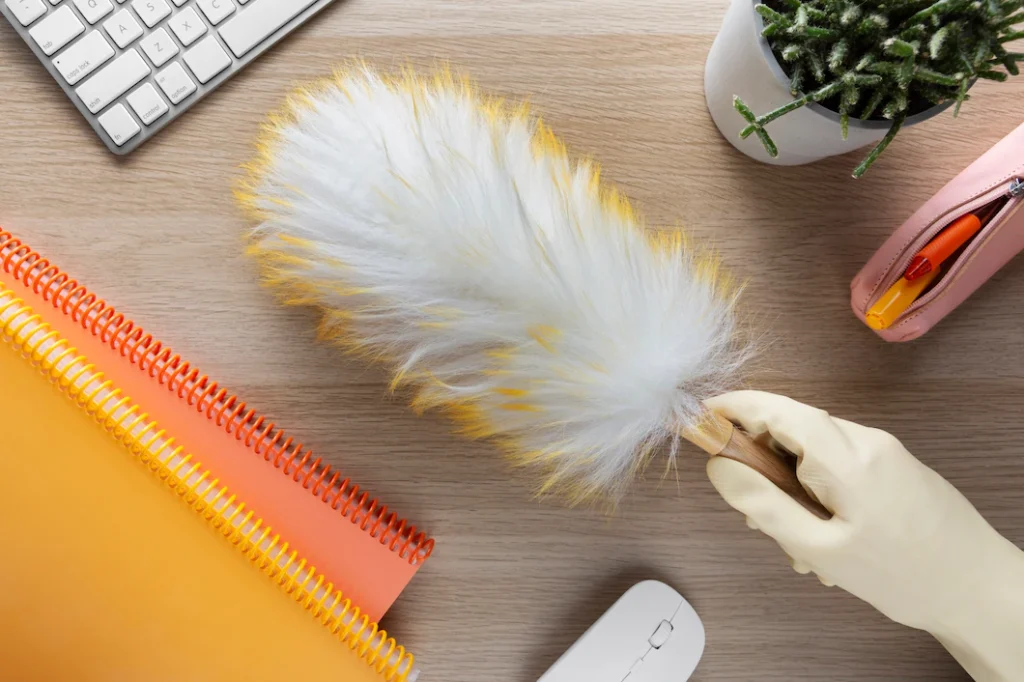 Your laptop or computer might be one of the dirtiest things you have in front of you. Without realizing, you may snack or eat while working, resulting in food splashes and crumbs to dirtying up your laptop. Don't worry, you don't have to work too hard to clean all of this.
Go to the nearest cleaning supply store and grab some wipes made specifically for electronics and take a little time to clean the dirt off your keyboard and monitor every now and then. You can also use baby wet wipes to clean it. When finished, clean the keyboard with a cotton swab that has been doused with alcohol.
Don't forget to clean every corner of the keyboard. These are the areas most often overlooked and tend to be a breeding ground for germs.
Maintaining the cleanliness of your electronics will help to prevent damage that might happen because of food or drink splashes. While doing this, you can also clean your phone and printer machine as necessary with a microfiber cloth or wipes. Always unplug the unit before cleaning and try not to come into contact with electrical components. It will not only help to clean your electronics from dust and dirt but will also help prevent germs that can make you sick in the long run.
3. Clean Your Desk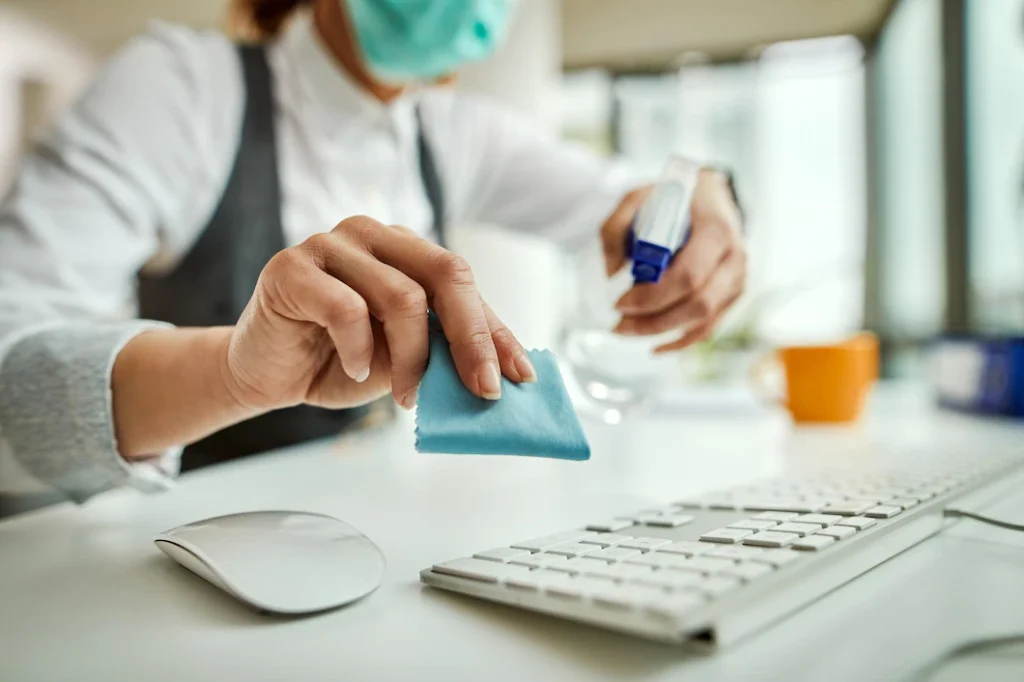 Your desk may transform into a place where everything is stored and scattered around. It is where you put piles of papers, notes, dirty dishes, and many other things. While on the other hand, a clean desk will guarantee better productivity for you. Though you are so busy, schedule at least once a week to clean up your desk.
4. Clean Garbage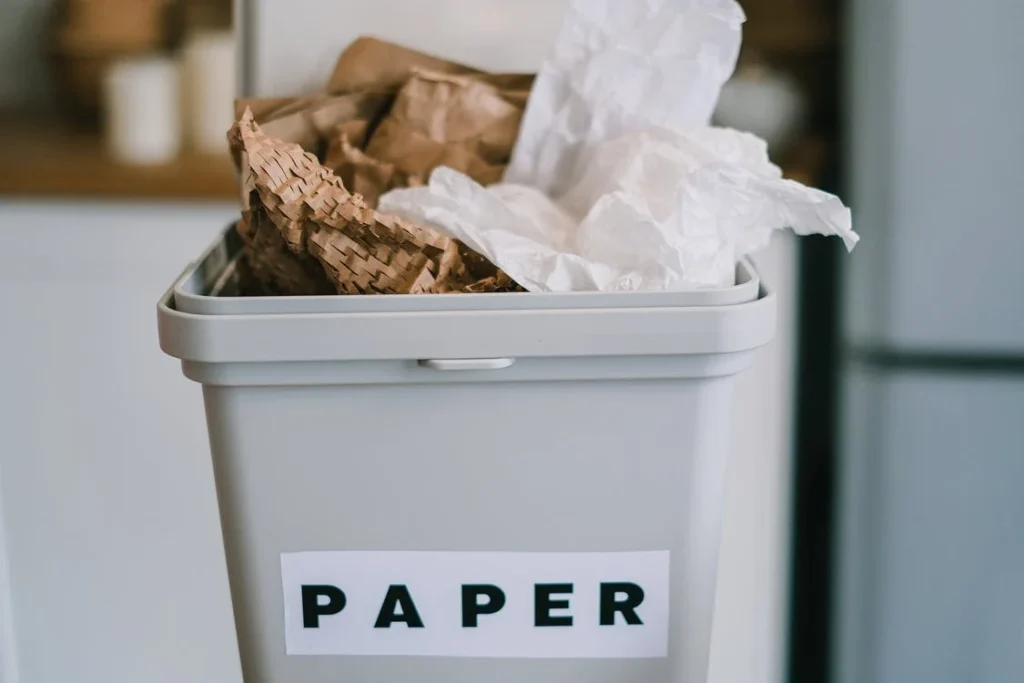 One of the simplest things you can do to keep your workspace clean is to clean up the garbage. This means putting away any food or drink that has been left behind, and throwing away any old materials that are no longer needed.
It is also important to keep your work area clean in general. This includes cleaning off any dust or debris, and putting up signs if you need to block a section of the room for working. By keeping your workspace clean, you will minimize the chance of bacteria or viruses spreading to other areas of the office.
So, empty your recycle bin every day. Don't let yourself fall into the habit of just leaving trash for days. This not only makes your office space polluted with unpleasant odors, but also becomes a breeding ground for germs, bacteria, and many others.
To Wrap it Up
Keeping your workspace clean is essential to keeping your mind focused and productive. Here are a few simple tips to help you keep your workplace clean and organized:
• Clear off any excess clutter so that everything has a place and you can find it easily.
• Put away all work materials, including paper clippings, memos, and other materials that can get lost or mixed up.
• Store important documents in a secure location where they are easy to access.
• Create designated work spaces for different tasks so that you know where everything is when you need it.
These are a couple of things that you can do easily to make your office space clean and tidy. Don't keep a habit where you let everything stew for days, and even weeks! Because if you keep pushing your cleaning schedule, it will create a whole lot of mess for you to clean up.