Working at close-knit companies has changed dramatically over the decades and it is a completely different thing nowadays. This is especially true for the startup companies and the newest members of certain industries that are trying to attract the best employees through their doors. The modern understanding of what a good workplace looks and feels like has to deal less with the luxuries and the material aspects and more with the human side and the feelings of people working there.
The physical and mental well-being of employees is prevalent in the new age in which we care about ourselves, and others, more than before. It is also important for the employees to get along with each other because the closer they are and the better they get along, the better the whole operation will perform. This is perhaps evident the most with IT firms who put extra emphasis on workers spending time with each other more and working together. However, it does not stop there.
New Type of Getting Along
The new wave of companies has introduced something that was never seen before called team building. Team building implies bonding during certain activities in which the workers from all levels of the company participate and compete together or against each other. No matter if one is an entry level worker or a CEO, team building is for everyone and all are invited to come. The best part about it is that it is completely free.
The firm covers all the traveling and booking costs as well as the food and beverage included.
Now that you know more about what it is, let us see what activities are game when it comes to team building. Basically, team building can be any type of group activity where dozens of workers can spend time together and have fun.
"It can be a beach trip, dinner with drinks, a session at the local swimming pool or sports complex, paintball, or even a movie night. Speaking of paintball, if you want a safer alternative for that then check out Gel Blaster. Anything goes as long as everyone is included and not talking about work. The fact that you are there with your colleagues is supposed to strengthen your personal bonds so that you actually do work better amongst yourselves during the week.
Is there an activity that is the best choice for team building though? Well, not really, but a rafting trip surely checks all the boxes. Exciting, somewhat challenging and potentially dangerous, and very refreshing, rafting is a phenomenon that has taken the world by storm in the recent decade or so. In this article we talk about why it is the perfect team building activity no matter the company. Learn more about it by visiting rafting Colorado as well.
1. Working Together
The best teambuilding activities are the ones in which the employees have to come together in their efforts and overcome an obstacle. Only after teamwork has been achieved can they proceed and come out on top.
Well, rafting is like this from the beginning to the end. All of the people in the boat have to evenly paddle down the fast river if they are to safely and optimally navigate the whitewater. If a single person is slacking, that side will have fewer paddlers and the boat will be going sideways. It is a team effort and therefore the perfect thing to build relationships and trust.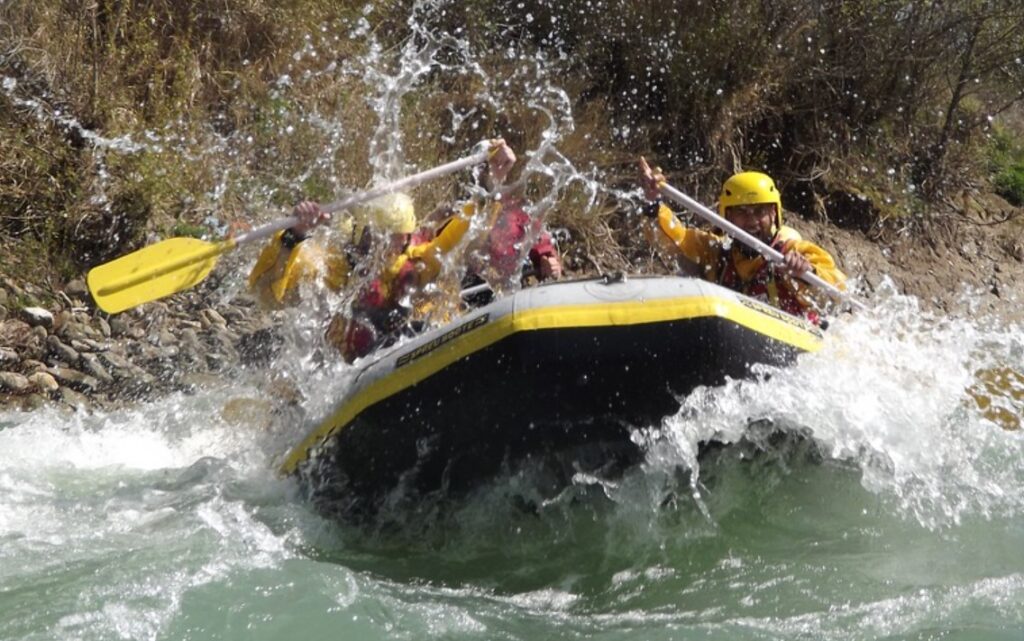 2. Coordination and Communication
Despite every rafting crew having a skipper whom the clients have to listen to at all times, you still need coordination and communication to properly navigate the fast river. Talking between yourselves, helping each other, and making sure the paddling is coordinated are all prevalent for the entire trip.
Rafting truly creates and solidifies bonds between team members and that will easily transfer to the office when you return to work after the trip. Eventually you will need little more than a few words between you to know what the others are thinking or what they need. Moreover, you will be able to expect things from each other and read body language much more effectively.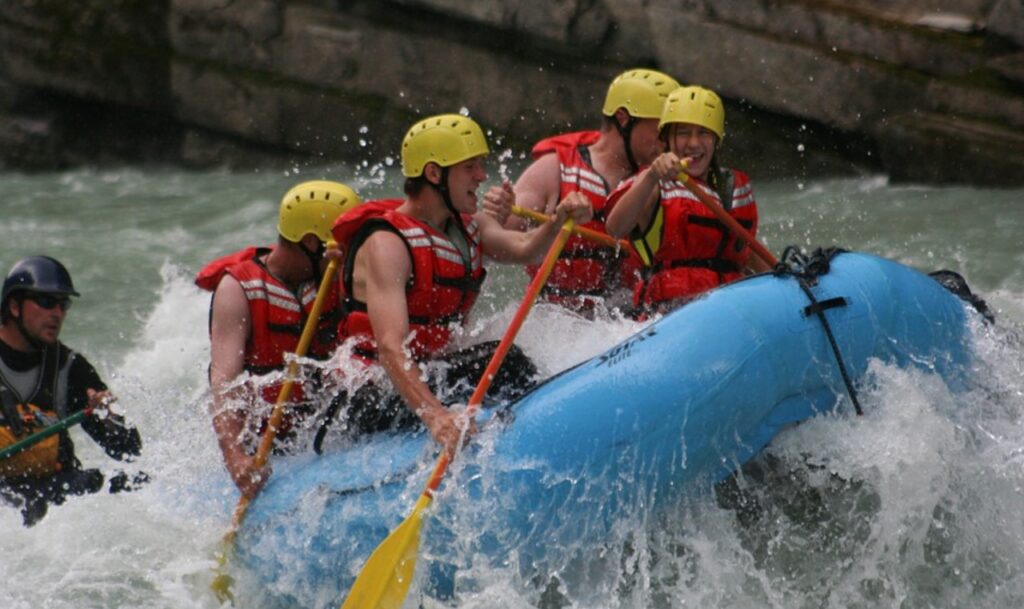 3. Cooperating with Everyone
At certain companies, people usually work with only a few colleagues on a daily basis and rarely see other members of the collective. This is not always ideal especially when there is a larger project and all hands are on deck. You need to know who does what and where they are at all times if the clients are to be satisfied and their projects completed on time. With rafting, between 6 and 10 people are usually in a single boat.
Rafting is the perfect opportunity to put employees who rarely see each other in the office in a position to cooperate by choosing them for a single boat. They will finally get a chance to do something productive together and later, if need be, they will be better because of it at work.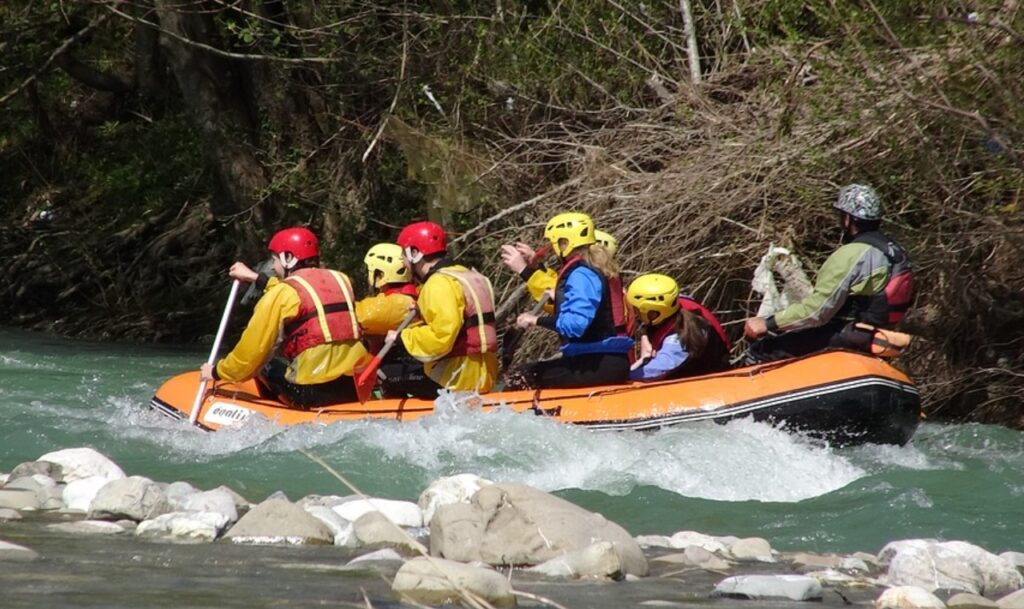 4. Adrenalin and Danger Bring People Together
Rafting is hardly the most dangerous thing you can do out there in the world but it is still challenging and it should never be taken lightly. Depending on the time of year and the river you choose, certain parts with rushing whitewater drops and turns will feel quite worrying.
This is good for team building because the adrenalin and danger involved will bring you closer together with your coworkers and strengthen your bond forever. Nothing makes you care for somebody else more than having them by your side in a tough situation. You will rely on each other and live to tell the tale. Once it is over, you will have an amazing memory to recall forever and it will be the reason why all of you work so well together.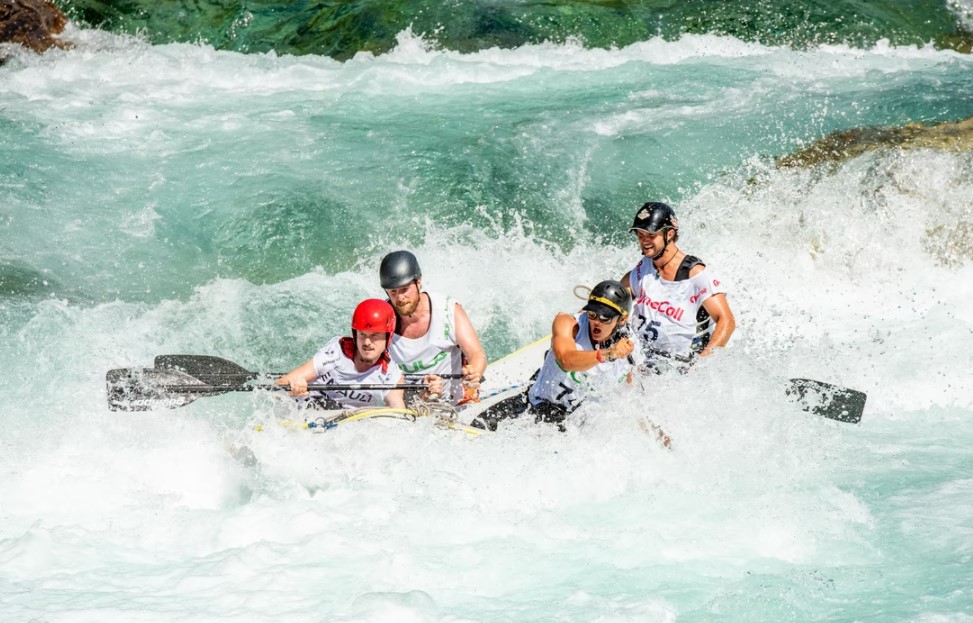 5. It is a Good Tradition
Lastly, rafting has is all and it is not just about going down the river and paddling through whitewater. The whole experience also includes group meals, campfires, and sleeping in wooden cabins or tents. It is a whole weekend of fun times that are usually interwoven with other fun activities inducing swimming, ATVs, hiking, and fishing. Because of all this, it is the perfect activity to make a company tradition out of.