I think these pictures prove what she keeps denying. Katy Perry is pregnant!
Katy was pictured yesterday promoting her new perfume, 'Meow', and in these pictures, you can clearly see a baby bump. It doesn't look at all like she's bloated – or whatever – that there looks like a good ol' fashioned baby bump!
In other Katy news, Barbara Walters named the singer one of her 'Most Fascinating People of 2011′.
Pop star Katy Perry told Walters her music is a departure from her conservative Christian upbringing.
"Everything I do is a bit slightly forbidden," the 27-year-old said.
Perry's parents were former hippies turned evangelical pastors — her mother once dated Jimi Hendrix, and her father is a recovered drug dealer.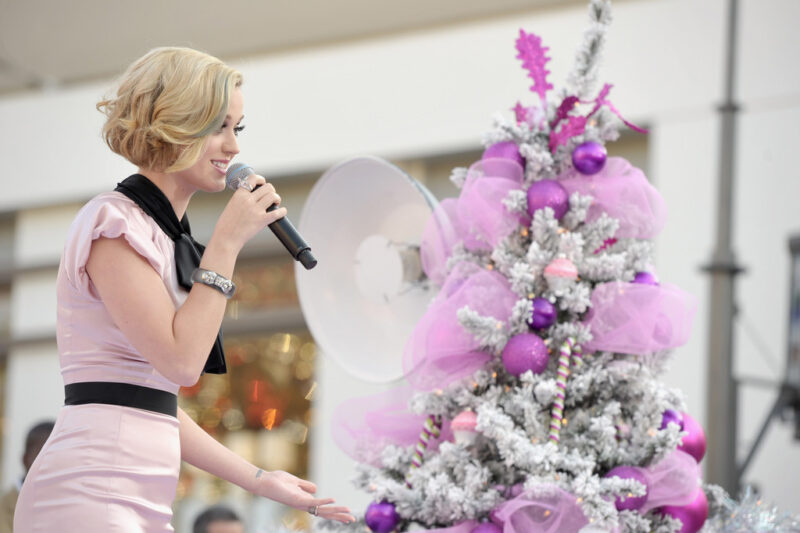 "I'd heard it in his sermons because it's a part of his testimony," she said. "Then I started to register, 'oh, yeah, their lives were very colorful before this very black-and-white world.'"
In that "black and white world," the only music in their strict Christian household was gospel music, and the only book, the Bible. Deviled eggs were known as "Angeled eggs" in her household.
"I still call them Angeled eggs," Perry said.
"When I was a little girl, I kind of thought that our world, my family's world, was the only type of world that existed. I had no idea that there was, you know, rock and roll or MTV … we had television but it was very censored. If people were about to kiss, I would never see that actual kiss. It would be changed the next second, but I didn't know that at the time."
Angeled eggs! Ha! I love it!