People love weddings, and the biggest reason of all is the food, of course. It is the reason food and catering are the utmost priority during wedding arrangements. People hire reputable and experienced caterers to make their and all the attendants' day extraordinary. After booking a beautiful venue, it is time to select a catering team. Before you hire them, you will have a lot of questions that will need clarification before the wedding ceremony.
Select an apt team of caterers among potential ones, narrow it down and set up meetings and interviews. What you need is not just delicious food but also the ability to serve and plate beautifully. Make a checklist of the questions which you want to know so that you can move forward with other plans and delegate the responsibility of food to them.
Here is a list of such questions to ask wedding reception caterers before hiring them
Availability On The Wedding Day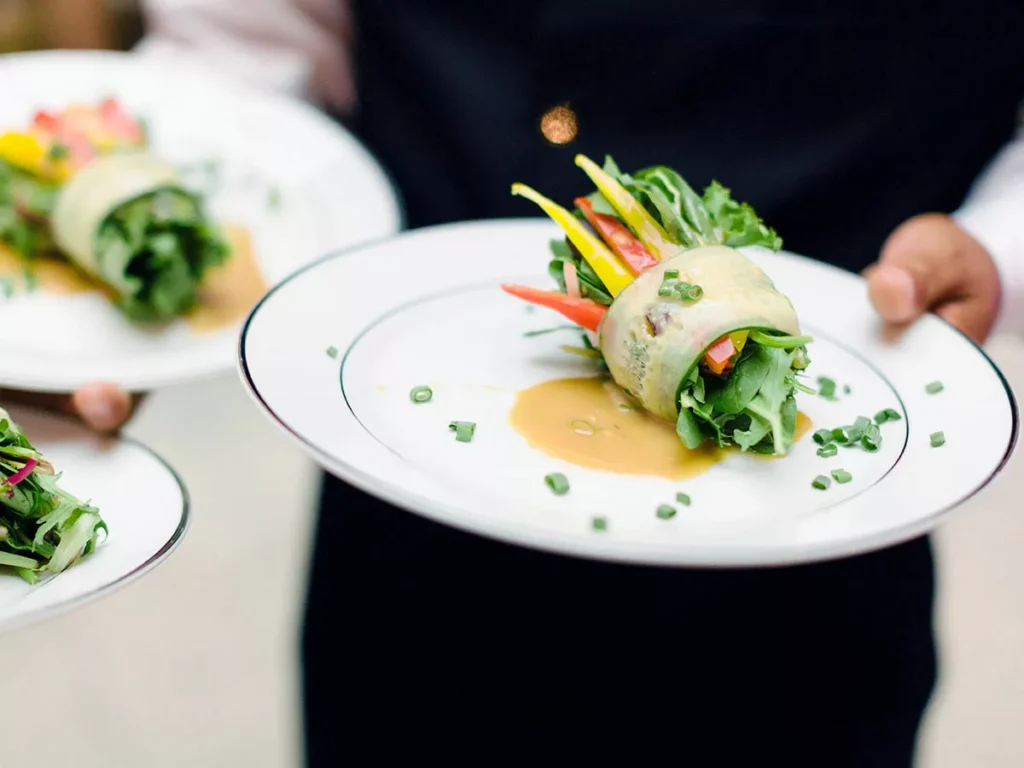 Are they available on the wedding day?
The first and foremost question to ask the caterers is whether they are available for the wedding day. When you are having the interview with them, in that first correspondence you should ask them whether their schedule is free on that day. If not, there is no reason to move forward with the interview.
Another apt question which you can ask them is if they have any other events scheduled in that period. If not, there is a certainty that you will receive personalized services and their undivided attention.
Experience Of The Caterers
How many years of experience do they have?.
Weddings are a special and memorable day that will linger in the minds of the people for a very long time. Hence, these preparations should be perfect or at least near to it. Keeping this in mind, wedding vendors who have experience catering many weddings before will do a more satisfactory job than ones who have less or none. It is significant to appoint someone who can deliver what is asked for.
The question should be how many weddings do you cater for a year?. For how many years have you been doing it?. This experience will add to their performance as they are already familiar with the wedding flow.
Another proof of their experience and ability to deliver promises will be photos of entrees and platings. It will give you an idea of what the platings will look like at the wedding and whether they meet your experience and style.
Specialization In Food/Cuisine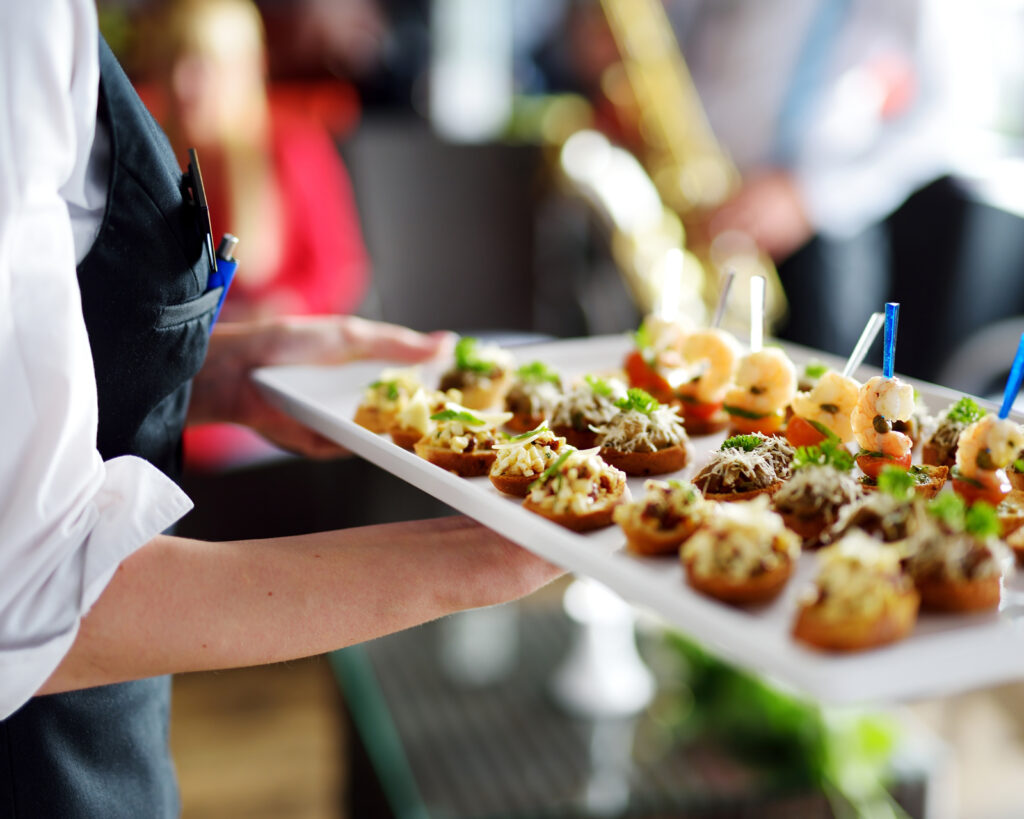 What are their specializations in food or cuisine?
Every wedding caterer specializes one or two in food or cuisine. Be sure whether the one they have expertise in fits your requirements for the wedding. If there is any tradition or particular food which should be at the wedding, ask them if they have experience in making and serving that food. If they cannot satisfy those expectations, those caterers will not be a perfect choice.
Dining Rentals
Do they provide rental services for Dinner Wares and flatwares for the wedding?
In addition to food, weddings also need tables, chairs, flatwares, glassware, and other dining-related items. Often the wedding venue provides such things. If they do not, ask the caterers whether they have a selection of dinnerware and linens. You can select one and coordinate the rentals as a part of the package.
The dinnerware and tables should suit the venue and complement the wedding's aesthetic. If they do not have the options you like, you can always ask them for an upgrade.
Transparency In Costs
What costs form part of the package and what costs are additional?
Almost half of the wedding costs go towards the venue and the catering. It is imperative to have a budget and pre-decided cost when meeting with a wedding caterer. Most of the caterers charge on a per-person basis. You have to further estimate how many guests you are going to have. It gives a general price estimation.
Not only is it necessary to know how much the catering will cost, but also how much shall be additional. The contract will indicate all the services and food items that shall be included in the service but having it discussed beforehand would not take much effort.
There are certain appetizers of specific brands like certain brands of liquor or vendor meals, wedding cake, or champagne which might cost extra and the cost shall be over and above the invoiced amount. You should make it crystal clear at the beginning.
Catering Staffs
Whether the staff has been properly trained for wedding arrangements?
Vendor staff is a crucial part of the package. They directly engage with the guests throughout the wedding. An important question to seek is whether they have trained them for handling weddings?. The answer should be positive. They should be well behaved and dressed accordingly.
Another essential point to ponder upon is the guest-to-server ratio. Generally, it is recommended to have one or two servers for every ten guests. If there is a buffet, one server per twenty-five guests will be enough. For bartenders, one for every fifty guests will work fine.
Fixed Or Custom Menu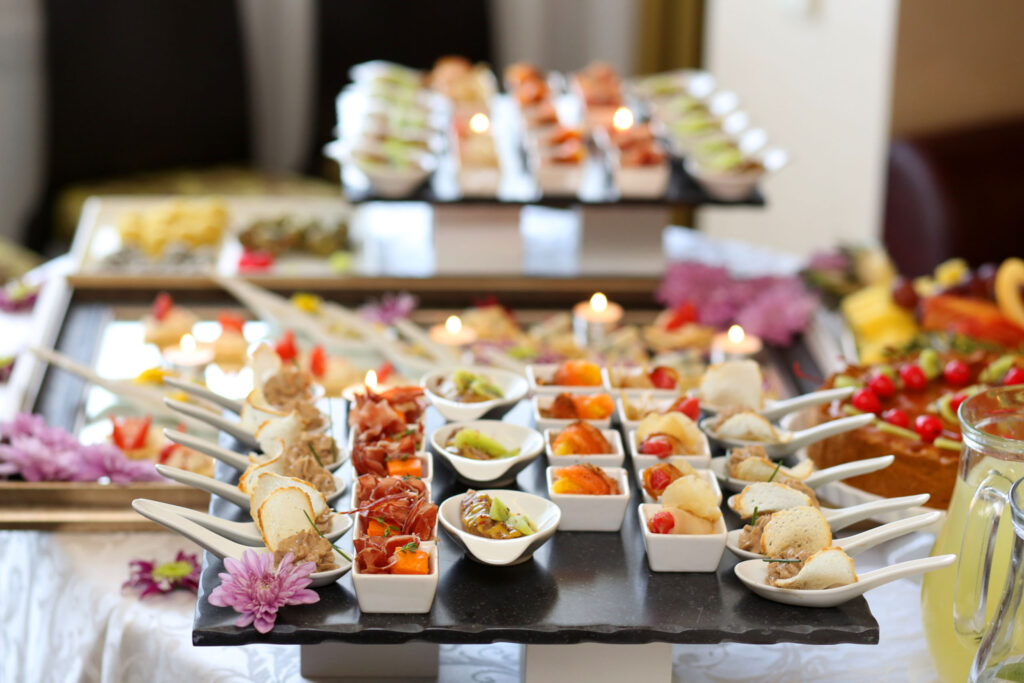 Whether they have a fixed menu or can you customize it according to your preference?
Certain companies have a pre-fixed menu for weddings. Some also listen to the recommendations and customizations of the clients. They make adjustments according to their preferences and style. An additional question to be sought is whether they will provide specialized children's meals or whether a choice shall be given to guests with allergies and doctoral regulations. If they are happy with making such changes under certain circumstances in the menu, these caterers might be suitable for you.
Licenses And Liability Insurance
Do they have a license for catering?
Caterers are required to have a proper catering license to provide such services at weddings or any event. Ensure that they have a valid license. If the wedding has alcohol, pre-check whether they are licensed to serve liquor.