The healthcare industry is changing rapidly. Healthcare providers are trying to find ways to provide better service for patients with increasing levels of medical complexity. Virtual healthcare software offers a valuable tool for achieving this goal, especially in primary care and specialty settings.
Virtual healthcare is the use of ICT solutions to replace, enhance or complement physical presence in clinical settings. It does not require the use of a human clinician or physical computer. It represents a shift towards virtual clinical care. The concept of virtual care has evolved from building electronic health records (EHR) to delivering clinical services through Internet technologies like Web-based and mobile applications, telehealth, and remote consultation.
Virtual healthcare software providers apply their expertise to create intranet applications, Web-based services, mobile applications and e-care portals for health providers and patients. Their products use location awareness, real-time data analysis and advanced analytics to provide faster responses to medical systems and enhance collaboration among healthcare providers. They offer a wide range of solutions for managing clinical information, facilitating remote monitoring, access to clinical records, patient engagement through e-care portals and connectivity with third-party systems. Here are five of the top virtual healthcare software providers.
1. Mend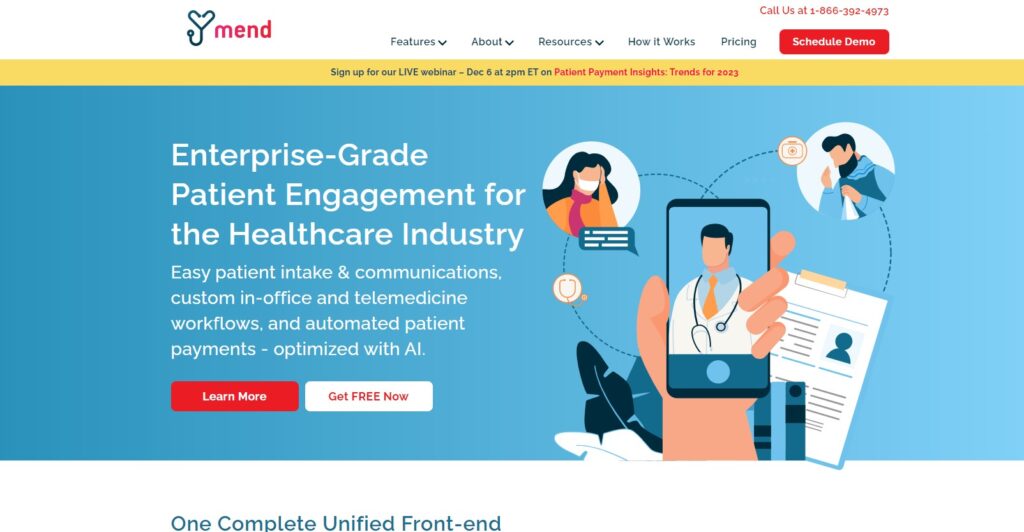 Mend is a telemedicine software suite that allows patients to connect with their healthcare team on an iPad or computer 24/7. It is a HIPAA-compliant secure platform for doctors and patients. It has an extensive library of health exercises, which help manage over 20 chronic conditions and create personalized care plans. It also uses a virtual clinical assistant (VCA) to conduct wellness checks with the patient. Using cleverly designed questions, Mend VCA can determine the patient's issues and prescribe personalized therapies immediately from within Mend. The product also manages group visits, in-network referrals and patient follow-ups.
It offers voice and video calling with the patient's health team and a personalized dashboard to track the patient's troubles and progress. The library of exercise videos on Mend Health can be downloaded and played anywhere. The Mend team is always available by email or phone with 24/7 access through a VCA. Patients can also create their agenda or agenda for their appointment times, which are then sent to the doctor in advance. The company offers a financial subscription plan that allows Mend to work on any device.
2. AMC Health
AMC Health is a mobile application that helps users manage their medication. This app allows users to view the patient's prescriptions on their smartphone and provides options to search for nearby pharmacies, renew medications, schedule appointments and much more. Users can also share their prescription information with friends and family by entering data directly into the app. The app allows them to select a pharmacy closest to them and lets them know if they need a refill or have an upcoming appointment.
The Bluetooth device options allow users to refill their prescriptions through the app. The app can generate a prescription label with instructions to print and take to the pharmacy. The information on this label changes depending on what medication has been ordered. The app is created by expert pharmacists and healthcare professionals. It is HIPAA-compliant. All personal and medical information is secure and cannot be accessed by anyone other than the patient. The company also provides a professional support service.
3. swyMed
swyMed is an emergency care tele-provider that delivers around-the-clock emergency care. The app can handle low bandwidth, integrate with hospital equipment, and ensure no communication errors. The swyMed system can detect and manage a patient's vital signs and check the patient's EKG, glucose levels, blood pressure and temperature. It offers triage services with a virtual care provider that can determine the seriousness of the situation and recommend the appropriate treatment.
The app can also store this information for future use by healthcare providers in case the same problem should occur again. It allows for face-to-face interactions when necessary via video calling. It includes an emergency call button for the patient to use in case of a medical emergency. The app offers emergency on-the-go care for the patient and can connect the patient with friends and family members in case of an emergency.
4. QliqSOFT
QliqSOFT is a clinical communication solutions provider focusing on healthcare solutions in the clinical and revenue cycle. The company offers clinical software and consulting services to help improve clinical workflow, increase the productivity of healthcare practitioners, improve patient care and reduce operational costs. It provides tools for electronic health records, billing, scheduling and practice management. It also offers consulting solutions to support its software products.
Its clinical communication solutions include chatbots, voice and video chat, screen sharing, file transfer and data management, which are used throughout the clinical workflow of care. Its healthcare solutions include practice management software, billing and collections solution, scheduling and referral management solution, clinical documentation improvement solutions and much more. The company provides a professional support service that offers help with software implementations and ongoing product training.
5. CloudMD
CloudMD is a cloud-based electronic health record system and electronic prescription software. This software allows users access to medical records from any mobile device or computer, even if the data is stored in multiple hospitals and clinics. The CloudMD product includes advanced security features, a comprehensive patient portal, data analysis and reporting features, and tools for connecting with third-party software for additional regulatory requirements.
The system allows users to receive reminders and alerts about upcoming appointments, manage their health information, and create lists and reminders related to their healthcare. The company offers an online training program. This online course helps patients get the most out of CloudMD. It also provides links to helpful educational sites and assorted resources for patients to use in caring for themselves. Patients can also use a personal health coach to track their health and improve it, build exercise into their week, and find ways to improve their overall health.
The healthcare industry is moving towards a more mobile, convenient and sometimes life-saving treatment.
Mobile health applications can provide instant access to your medical records, allowing you to manage your medical care. This can lead to a healthier and longer life. The best virtual healthcare applications reduce the time and costs of receiving healthcare by providing an easy way to manage and monitor your medical data.